About us
How a `connoisseur´s tip´ came to conquer the analogue world.
What began 20 years ago with Thomas Scheu's `passion for tinkering´ has grown into a highly regarded company with audiophile customers almost anywhere on this recently revinylized planet.
The trained toolmaker and talented musician Thomas Scheu built his first record player in 1985. Fueled by an overwhelming passion to build a turntable better than what could be bought anywhere, he was aided by his skills: solution-oriented thinking, a deep knowledge of materials science and his talent for design and construction both in developing his ideas and expanding his company.
One special highlight of what was still a hobbyist career at the time was the winning of the prestigious German `Golden Ear Award´ in 2001.
In December 2004 – after Thomas' much too early death – his wife Ulla Scheu took over the responsibility for running the company. She fully comprehended how to meld the SCHEU tradition with the necessities of modern commerce. So based on her late husband's ideas she started to unveil the secrets of SCHEU Analog to an ever growing world of vinyl aficionados, investing in advertising and expansion to bring the merits of HIS work to the wider public.
"We carry on and there will be further innovations but they will always have their roots in Thomas´ ideas," says Ulla Scheu of her own personal view of the company and indeed giving an insight of her view of life as a whole.
SCHEU has come to achieve major status in the audiophile hi-fi market and running the company nowadays is a more than full-time job.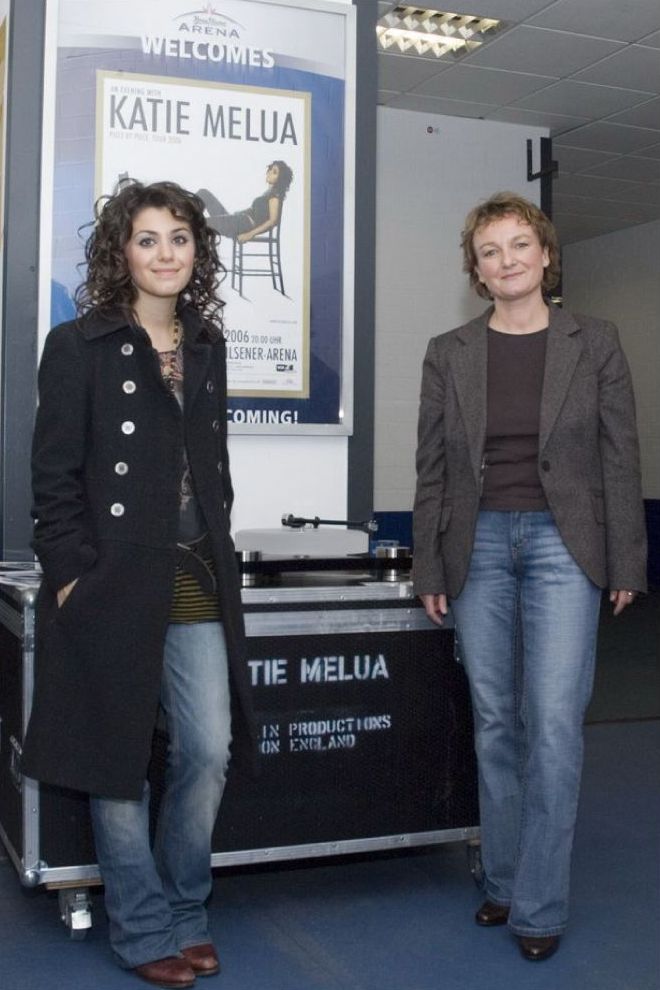 Katie Melua with her beloved SCHEU Black Diamond turntable and a justly proud Ulla Scheu (Photo © Andrew Bronner)